We are proud to announce full details of the Special Edition and Collector's Edition of Grand Theft Auto V – which will be available for worldwide pre-order starting today from participating retailers.
As an additional bonus, those who pre-order any edition of Grand Theft Auto V (including the Special Edition, Collector's Edition or the standard retail edition) between now and September 17th will get access to pilot the Atomic Blimp in-game vehicle.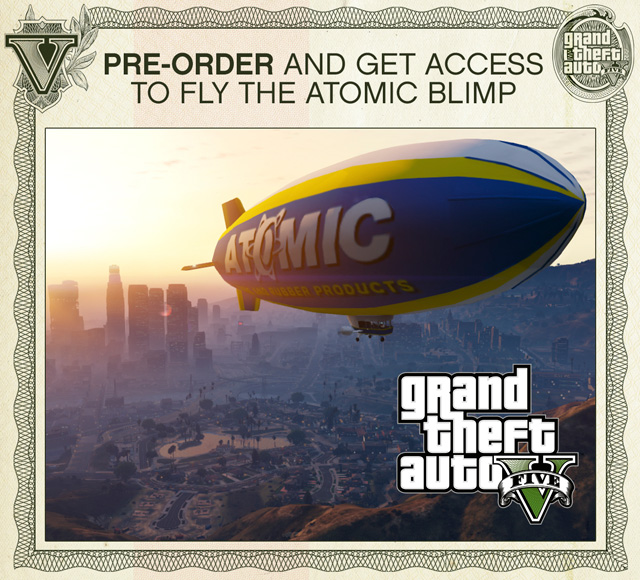 High above the streets of Los Santos floats the Atomic Blimp, hawking Los Santos' finest tire company (whose products are available in any LS Customs garage). Pre-order now to gain the ability to pilot the most iconic and leisurely aircraft in the Los Santos skies (please note that all pre-orders made before today will also get access to the blimp).
The Grand Theft Auto V Special Edition includes:
Full retail copy of Grand Theft Auto V

Collectible SteelBook with Exclusive Artwork
This special SteelBook features double-sided, never-before-seen artwork of Michael, Trevor and Franklin. Custom color and metallic treatments bring out the detail of the artwork created exclusively for this SteelBook.

Blueprint Map
This exclusive, additional 21.5" x 26.75" map displays a blueprint view of Los Santos and Blaine County. Cryptic markings indicate locations for fast cash and other points of interest for the up-and-coming entrepreneur.

Special Ability Boost
Michael, Franklin and Trevor each have a unique special ability. With this boost, the special ability bar will generate 25% faster.

Stunt Plane Trials
Single player Stunt Plane Trials let you take on additional aerial challenges spread throughout Los Santos and Blaine County.

Bonus Outfits, Tattoos and More
Michael, Franklin and Trevor get bonus outfits in their wardrobes, character specific tattoos at tattoo parlors, and special deals from shopkeepers across Los Santos and Blaine County.

Additional Weapons
When visiting Ammunation stores in single player, merchants will have special weapons in their inventory available for free: the Pistol .50, Bullpup Shotgun and melee Hammer.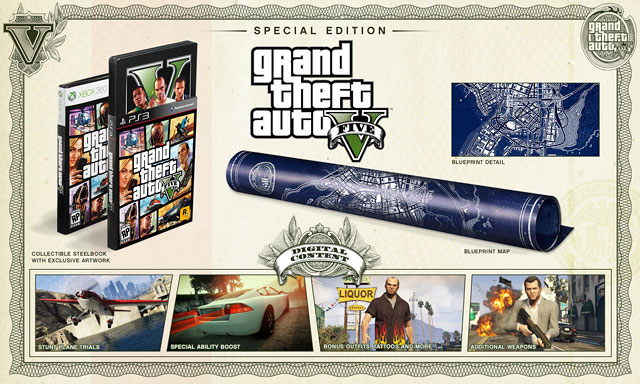 The Grand Theft Auto V Special Edition. Click here for more detail.
The Grand Theft Auto V Collector's Edition includes all the contents of Grand Theft Auto V Special Edition as described above plus:

Grand Theft Auto V Security Deposit Bag with Logo Key
Inspired by the heists in Grand Theft Auto V, this custom 10.75" x 8.5" money bag features a pop-up style lock and laser cut logo key to secure important items. The reverse side features a pressed Rockstar Games logo on the security mount with a framed ID window.

Grand Theft Auto V New Era 9FIFTY™ Snapback Cap
This exclusive New Era 9FIFTY™ cap features an embroidered Los Santos logo on the front, a stitched, black Rockstar Games logo on the wearer's left side, a Grand Theft Auto 'V' logo applique on the opposite side, and snapback closure for an adjustable fit.

Custom Characters for Grand Theft Auto Online
Get classic Grand Theft Auto characters to use within the Grand Theft Auto Online Character Creation System.

Unique Vehicles and Garage Property
Players will instantly receive a garage to store custom vehicles. In single player, the garage will be stocked with the 1930's style Hotknife hotrod and the CarbonRS sports bike. In Grand Theft Auto Online, players will get the high-end Khamelion electric car.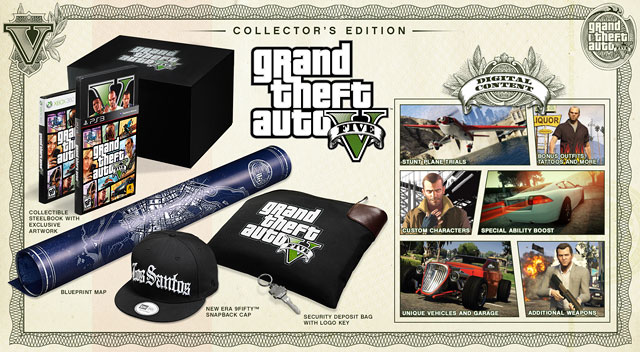 The Grand Theft Auto V Collector's Edition. Click here for more detail.
The Grand Theft Auto V Collector's Edition comes packaged in a premium outer box featuring a foil embossed Grand Theft Auto V logo on the top, finished with a matte, scuff-resistant film lamination, housing all of the contents.
The Grand Theft Auto V Collector's Edition and Grand Theft Auto V Special Edition are the perfect way for fans to celebrate the return of GTA, with special digital content and exclusive Grand Theft Auto V physical items. Grand Theft Auto V Collector's Edition will retail for $149.99, while the Grand Theft Auto V Special Edition will retail for $79.99. All versions are now available for pre-order until September 17, 2013 while supplies last.
Sony Computer Entertainment Inc. today announced Gran Turismo®6 (GT6™), the latest version of PlayStation®'s best-selling franchise, will be released in Holiday, 2013. The news was revealed today by legendary Gran Turismo creator Kazunori Yamauchi at an event held to celebrate 15 years of the 70-million-selling series.

GT6 for PlayStation®3 will bring new levels of authenticity to 'the Real Driving Simulator' as well as introducing stunning new tracks and cars and a revised user interface. A new compact game engine will improve operation and increase the flexibility to expand it with downloadable content. Meanwhile, the game is also set for expanded connectivity with other devices such as smart phones and tablets and increased social and community functions.

All of the cars and tracks from Gran Turismo®5, which has sold over 10 million copies since launching in 2010, will be retained in GT6. But notable new additions to the already impressive line-up of historic cars, road cars and the latest race cars, brings the total car list to 1,200 at launch, with new cars set to be continually added online. Several thousand aerodynamic parts and custom wheels will be available for almost all cars, and players can personalize their own custom cars in game to the greatest ever level possible.

The UK's famous Silverstone Circuit will be just one of seven new locations in Gran Turismo 6, taking the total to 33, with 71 different layouts available, 19 of them brand new. There will also be regular additions of new tracks set to be made available online. The improved course maker function will provide gorgeous scenery spanning several tens of square kilometers including the magnificent backdrop of Andalucía.

The theme of Gran Turismo's innovative collaborations with partner companies will increase with the inception of GT6. A number of exciting new projects that blur the line between the virtual and real will be announced in the run up to the game's launch. Not least of these is GT Academy, a collaboration with Nissan to unearth real racing driver talent that first ran in 2008. It was announced during the event that the competition returns for its biggest ever year in 2013, with the entry mechanic set to take place on an exclusive GT6 demo in July.

Other notable partnerships in the development of GT6 have been with tire manufacturer Yokohama Rubber and suspension company KW Automotive. Both companies are active in the commercial car industry and in racing, and they have acted as technical development partners for the game's new physics engine, for its tire and suspension kinematic modeling, creating an even more realistic experience for GT fans.

"It is amazing to think that it is 15 years since we first released Gran Turismo," explained Kazunori Yamauchi, during the announcement at Silverstone Circuit. "Things have changed a lot since then and now Gran Turismo 6 is a further evolution of my dream. We're pleased to deliver GT6 to PlayStation 3 as we have a very loyal community on that platform. However, we have refactored the game to make it very flexible and expandable, with a view to making many future developments. I am very pleased with everything about the new game and the new additions, but the launch will be only the beginning for GT6. The game will continue to develop throughout its life. I already have many ideas for things I want to achieve in the next 15 years of Gran Turismo!"

The celebration of 15 years of Gran Turismo event at Silverstone included a demo of GT6 featuring the famous circuit. Guests were able to play the game in the familiar circular Gran Turismo race pods before having a chance to take to the real track in cars provided by Audi, Ford, Jaguar, KTM, Mercedes-Benz, Nissan and Toyota.

Further news about Gran Turismo 6 will be revealed at the forthcoming E3 and Gamescom events.

Cars featured on the GT6 Silverstone demo (* denotes new to Gran Turismo):

Acura NSX '91, *Alfa Romeo TZ3 Stradale '11, *Alpine A110 1600S '68, *Audi Sport quattro S1 Rally Car '86, Ferrari 458 Italia '09, *Ferrari Dino 246 GT '71, Ford GT '06, *KTM X-BOW R '12, Lamborghini Countach LP400 '74, *Light Car Company Rocket '07, McLaren MP4-12C '10, *Mercedes-Benz SLS AMG GT3 '11, Nissan 370Z (Z34) (GT Academy Version) '08, Nissan 370Z Tuned Car (GT Academy , Version) '08, Nissan GT-R Black edition (GT Academy Version) '12, *Nissan GT-R Nismo GT3 N24 Schulze Motorsport, Nissan Leaf G (GT Academy Version), *Tesla Motors Model S Signature Performance '12, Toyota 86 GT '12

Summary of new Gran Turismo 6 features announced by Kazunori Yamauchi:

New Game Engine

Refactoring
Compact, nimble operation
Flexible expandability
A new rendering engine that pushes the limits of the PS3
New Physics Engine

New suspension and kinematics model
New tyre model
New aerodynamics model
Technical partnership with Yokohama Rubber and KW Automotive
1,200 Cars, abundant custom parts, and on-going DLC

From historic cars to the latest racing cars, the game contains a total of 1200 cars.
Multiple aerodynamic parts and custom wheels will be available for almost all cars.
Players can create their own personalised custom car in the game.
Cars will be continually added online
33 locations, 71 layouts

33 Locations and 71 layouts will be provided from day1 (7 more locations and 19 more layouts than GT5).
More new tracks will continue to be provided online
New Course Maker

Massive scenery spanning several tens of square kilometers
A new course generation algorithm
Community/Club/Race Organizer

Players can form their own communities
Various community levels from local and domestic to global
Players themselves can create and manage their own online events
New User Interface

Balancing directional key operation and touch operation
Quick response
Shortening of loading times
Multi Device Compatibility

Playstation
Smart Phone
Tablet
PC
At the same time as the PS3 version of GT6 the "Real Driving Simulator" launches, a mobile version and web application version of GT6, will be created to enjoy Gran Turismo's massive community space.

Real/Virtual "Edge Effect" Activity

A variety of "Edge Effects", the chemical reactions between the real world and the virtual world for which the Gran Turismo series is famous, are also planned for GT6. Exciting collaborations between various automotive manufacturers and collaborations with brands crossing different industries will be revealed gradually across the next six months.
Read more